"The practices on forests management that could be considered as measures to mitigate climate change are mainly focused on Amazonian regions. However, there is lack of information about the contribution of Andean forests to mitigation strategies and adaptation", mentioned CONDESAN Executive Director, Miguel Saravia last Thursday, June 25 when representatives of various organizations of civil society that work on Andean forests landscapes met to exchange and jointly define their contributions to the proposal of Intended Nationally Determined Contributions (INDCs) on Climate Change.
This meeting took place in the framework of public consultation process of the proposal of Intended Nationally Determined Contributions (INDCs) on Climate Change published last June 5 by Ministerial Resolution No. 146-2015-MINAM. The document aims to reduce 31% of national emissions of greenhouse gases by 2030 through various mitigation measures.
The experts agreed that it was necessary to link the proposals made at national level to the local Peruvian contexts. This is very important in order to define and secure the aspirational goals of adaptation to climate change, considering that the Andes gather 75% of the rural population who experience high vulnerability to the impacts of climate change. SDC Programme official, Jocelyn Ostolaza indicated that a crucial commitment would be to promote research in Andean ecosystems in order to better understand their contribution to both reducing vulnerabilities and mitigation of climate change.
A number of proposals and recommendations were made during the meeting. These will be systematized and presented to the Ministry of Environment for revision and incorporation in the proposal of the INDCs to the United Nations Framework Convention on Climate Change.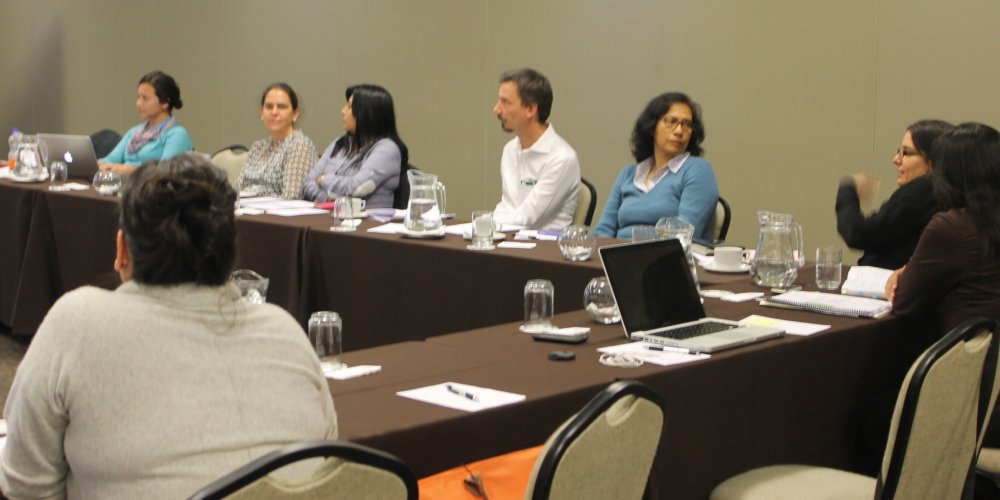 The following organizations participated in the meeting: Andean Forests Programme, SDC, PACC-Peru Project, CONDESAN, The Mountain Institute, DAR, ONF Andina, IICA Sustainable Forest Management Programme in the Andean Region, INTE-PUCP, EBA Mountain and EBA Amazon Projects by UNDP -UNEP Nature and Culture.
---
The meeting was facilitated by the Andean Forests Programme, an initiative of the SDC Global Programme on Climate Change which is facilitated by the Consortium Helvetas Swiss Intercooperation-CONDESAN.